Exploring the many attractions at Disneyland is bound to make you hungry and trigger your sweet tooth. However, you might feel overwhelmed by the many dessert options Disneyland has to offer.
Are you wondering what you should pick? Keep reading to find the best 10 desserts to try at Disneyland!
» You might be interested in Is Disney Genie+ Worth it? and Disneyland Tips and Tricks.
Planning your trip? We've got tons of helpful Disney planning guides from our awesome list of 40 essential tips, to how to get to Disneyland, where to stay near Disney, what to pack, what to wear, and what to eat in both Disneyland and California Adventure.
Desserts To Try At Disneyland
1. Dole Whip
Dole Whip is a delicious and refreshing dessert. At first glance, you'd think it was regular soft-serve ice cream, but you'd be surprised to know that this creamy dessert is dairy-free and gluten-free!
Dole Whip was originally sold in the pineapple flavor but it's now available in mango, raspberry, and watermelon. If you are wanting something a little different try the chili-mango whip, which is pineapple and mango swirl topped with Chamoy, mango, and chile-lime seasoning.
Moreover, you can get the regular Dole Whip soft-serve option or a Dole Whip Float!
Where to Get It?
Tiki Juice Bar in Adventureland (only offers Dole Whip pineapple flavor)
The Tropical Hideaway in Adventureland (offers Dole Whips in pineapple flavor, in addition to the other flavors)
2. Mickey Beignets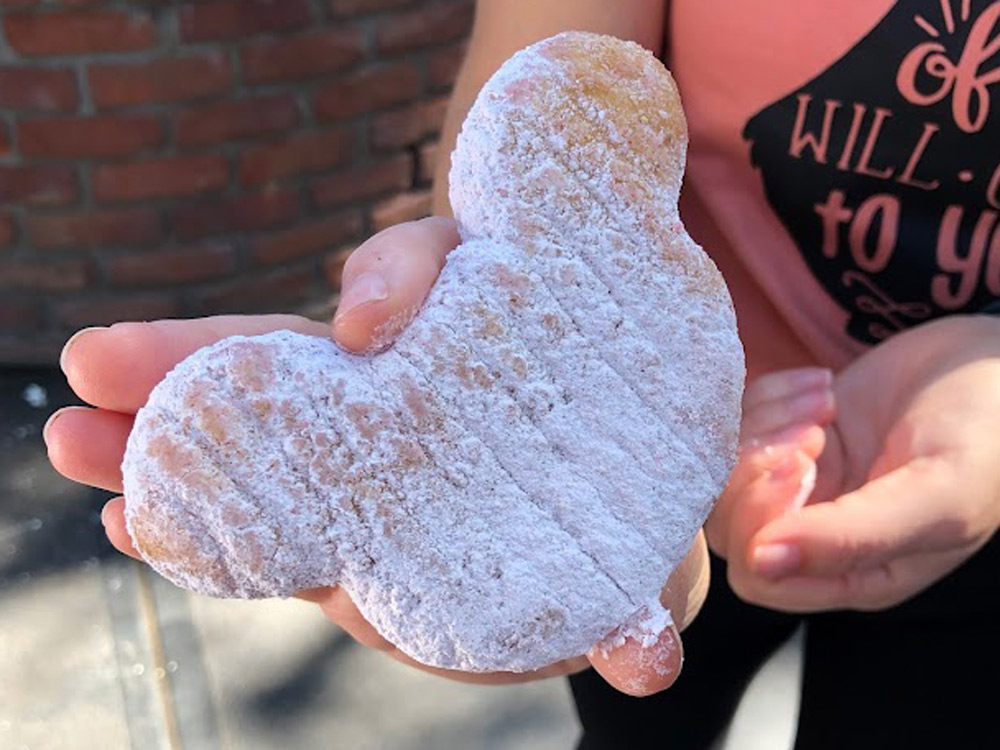 A beignet is like a donut but is much softer and airy in texture. A Mickey Beignet is probably the perfect Disney confection because it combines a delightful flavor and comes in the Mickey shape we all know and love!
Mickey Beignets comes in packs of three or six and are sprinkled with lots of powdered sugar. You also get to choose your dipping sauce from chocolate, caramel, or strawberry.
However, you can skip the dipping sauce and enjoy the beignet on its own.
Mickey Beignets are also offered in unique seasonal flavors like Pumpkin Spice, Cookie Butter, Candy Cane, and more. So keep an eye out for those!
Where to Get It?
The Mint Julep Bar in New Orleans Square
3. Raspberry Rose Mickey Macaron
The perfect macaron has a crispy outer shell with a chewy, soft center. It's supposed to have a slightly nutty flavor, yet remain slightly sweet. The Raspberry Rose Mickey Macaron at Disneyland combines all these elements in a well-balanced dessert!
The variation available at Disneyland all-year-round is the Raspberry Rose Mickey Macaron. The outer top and bottom cookies are deep red and filled with a sweet raspberry-rose almond filling and fresh, juicy raspberries.
The top of the Mickey Macaron is finally swiped with edible gold paint for an extra touch of elegance.
This delicacy is colorful, fruity, crunchy, and simply gorgeous! If there's one dessert at Disneyland that's Instagram-worthy, it's this one.
Where to Get It?
Jolly Holiday Bakery Café in Main Street, U.S.A.
4. The Grey Stuff
"Try the grey stuff, it's delicious!" You really should listen to Lumiere from Beauty and the Beast and try this fun Disney dessert.
The Grey Stuff has is a crumbly tea cookie that has hints of almond and lemon. The cookie is topped with moist red velvet cake, filled with raspberry jam, and a single fresh raspberry. Covering all of that is a cookies and cream-flavored mousse.
The sweetness from the cake and mousse pairs flawlessly with the tanginess of the lemon in the cookie and the tartness of the raspberry.
Where to Get It?
Red Rose Taverne in Fantasyland
5. Cold Brew Black Caf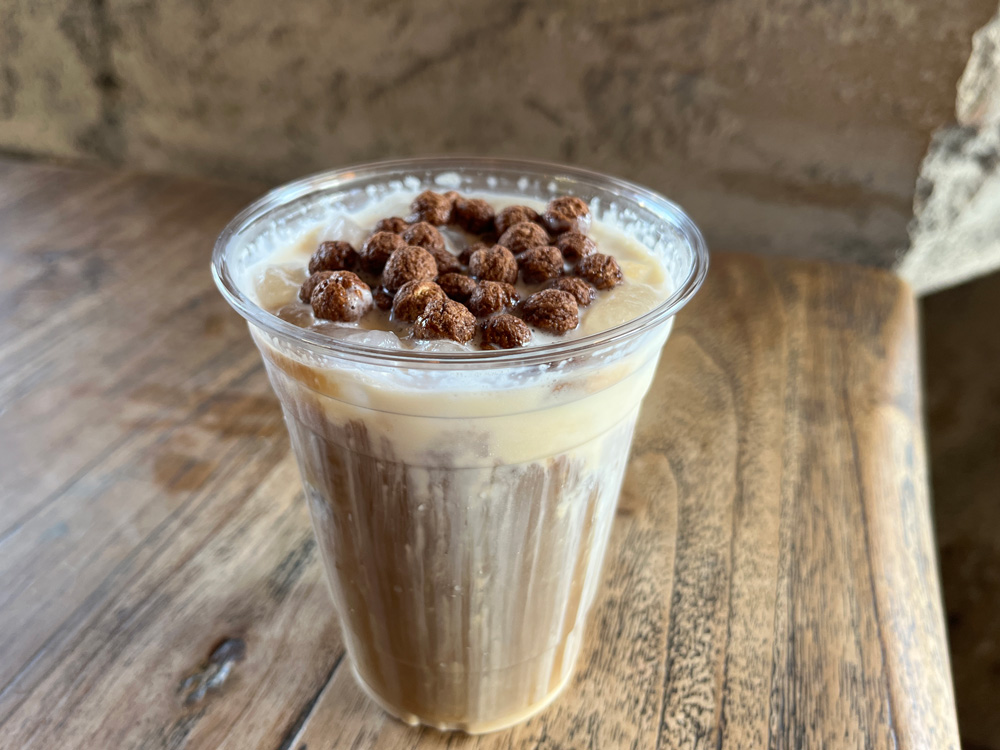 When you are in Star Wars: Galaxy's Edge be sure to visit Docking Bay 7 Food and Cargo for this super tasty cold brew coffee topped with sweet cream cheese and cocoa puffs. It was such a fun treat!
Who knew that cocoa puffs went so well with coffee? A drink that is also a dessert. Delicious!
Where to Get It?
Docking Bay 7 Food and Cargo in Star Wars: Galaxy's Edge
6. Churros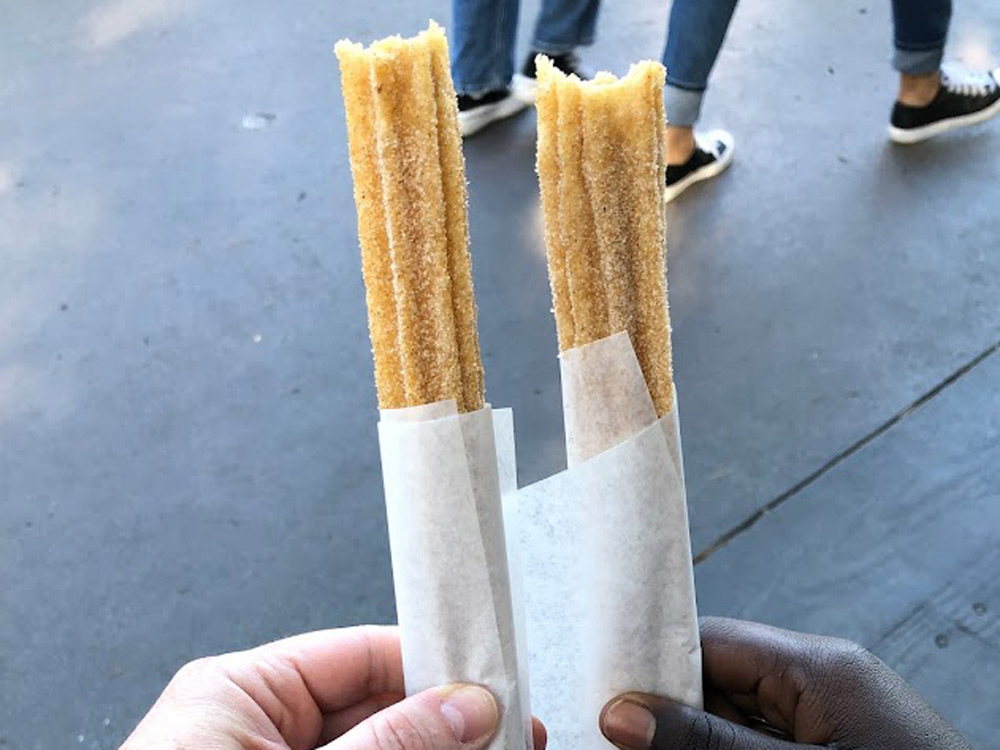 Churros are a classic dessert at Disneyland. Churros tick all the boxes; they are sweet, warm, crispy on the outside, and fluffy on the inside. Better still, you can also enjoy them while you walk to your next attraction!
The various churro stands at Disneyland offer many churro flavors, including seasonal and special flavors. The most popular flavor is the classic cinnamon and sugar churro.
You can find these churros in many carts throughout Disneyland.
Where To Get It?
Churro cart near Sleeping Beauty Castle in Fantasyland
Churro cart near Golden Horseshoe in Frontierland
Churro cart near Big Thunder Mountain Railroad in Frontierland
Churro cart near Buzz Lightyear Astro Blasters in Tomorrowland
7. Churro Toffee
Not to be confused with a churro a churro toffee might just be my favorite treat in the park.
It is a square of hard toffee coated in white chocolate and sprinkled with cinnamon sugar. Doesn't look like much, but it's amazing.
You can find these tasty desserts in all treat cases throughout the park. In addition to the Classic there is usually a seasonal holiday flavor to try. For the Halloween season it was pumpkin spice.
Where to Get It?
Candy Palace and Candy Kitchen in Main Street, USA
8. Mickey Ice Cream Bars
Looking for a quick snack to cool down? Be on the lookout for ice cream carts throughout the park. You can order many ice cream treats such as Mickey shaped ice cream bar, ice cream cookie sandwiches, or frozen bananas.
Where to Get It?
Disneyland Ice Cream Carts
9. Green Alien Macaron
This tasty treat is called The Macarooooon! You will recognize this cute green alien if you have ever seen Toy Story.
The original is a lemon macaron with blackberry filling. They are served from the cooler and can be a bit fragile.
The one pictured above was the Halloween version. Watch for the seasonal aliens and try the fun flavor combinations they come in like Marshmallow crème and chocolate ganache for the Christmas holiday.
Where to Get It?
Alien Pizza Planet in Tomorrowland
10. Popcorn
This treat is great for sharing and munching on the go!
If you ask around you will find out that the popcorn at Disneyland is legendary. It is a fan favorite and you can find it all over the park.
A cool perk is that it is served in seasonal, collectible containers and buckets. Some are so popular that they sell out long before the season is over. This is the Zero popcorn bucket from The Nightmare Before Christmas that was available during the Halloween season.
Where to Get It?
Popcorn near City Hall
Popcorn near Fantasyland Theatre
Popcorn near Haunted Mansion
Popcorn near It's A Small Worlk promenade
Popcorn near Mark Twain Riverboat
Other Treats to Look Out For
Tigger's Tail – Pooh Corner in Critter Country
Chocolate-Chunk Cookie Sundae – The Golden Horseshoe in Frontierland
Matterhorn Macaroons – Jolly Holiday Bakery Café in Main Street, U.S.A.
House-made Funnel Cake – Hungry Bear Restaurant in Critter Country
Maurice's Pieces – Maurice's Treats in Fantasyland
The Takeaway
No trip to Disneyland would be complete without trying its iconic desserts. Whether you prefer crunchy or creamy treats, you'll find it all in Disneyland!
Where to Stay Near Disneyland
There are many options for great places to stay near Disneyland, but we definitely recommend staying at a Disney hotel if at all possible.
The three Disney-owned on-site hotels are The Disneyland Hotel, The Grand Californian and Paradise Pier. All three offer early entry to both parks for their guests. The Disneyland Hotel and The Grand Californian offer wonderful dining options as well as character dining.
If you want to stay right across the street from the park, try the Park Vue Inn (3-minute walk) or the Best Western Plus Park Place Inn-Mini Suites (4-minute walk).
How to Get to Disneyland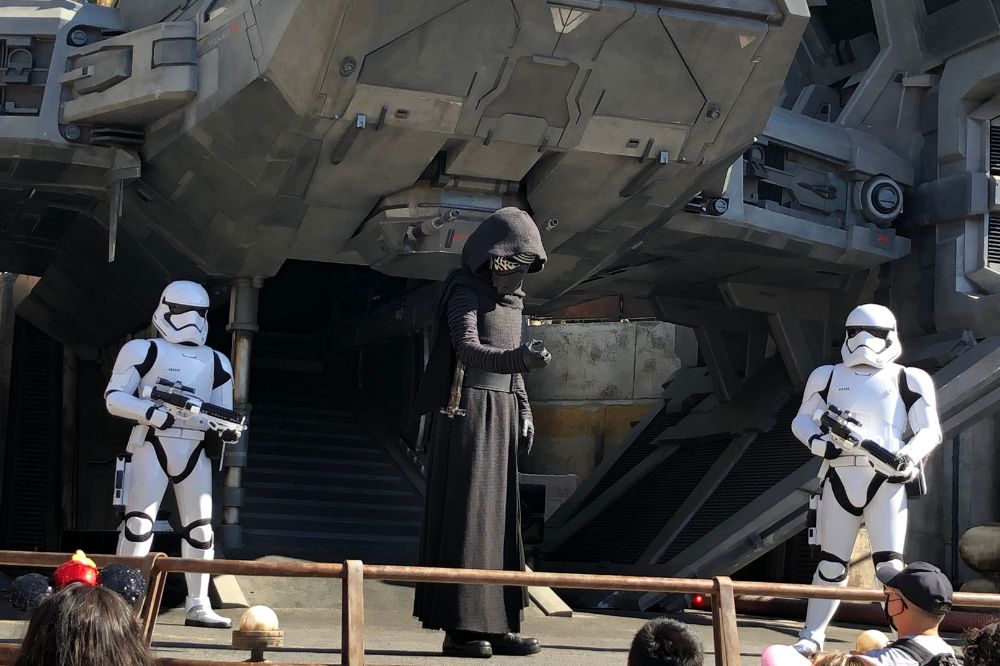 These are the main airports to choose from to get to Disneyland:
John Wayne Airport in Orange County (SNA) – 15 Miles from the park.
Long Beach Airport (LGB) – 25 Miles from the park.
Los Angeles International Airport (LAX) – 35 Miles from the park.
Hollywood Burbank Airport, Bob Hope Airport (BUR) – 45 Miles from the park.
Drive times vary depending on the time of day. On-site car rental, taxis, and rideshares are available at all airports.
Uber and Lyft are convenient options. Consider checking the price of both before deciding. Prices will vary depending on the time of day.
Shuttle services can be reserved in advance. Lansky shuttle car service has a complimentary 30 minute grocery/fast food stop on the way to the hotel and they provide car seats. Karmal Shuttle car service only goes to LAX and John Wayne Airport and they don't provide car seats.
Tips for Visiting Disneyland
Getting to and into Disneyland can be a challenge but not one that you can't master with a few of our top tips. Here are some of the things we recommend everyone do to make their trip to Disneyland exciting and smooth. Read all of our 40+ Disneyland Tips.
1. Download the Disneyland App
You can and will do everything from the Disneyland app (Apple Store | Android store) before you leave, while you are there, and even when you get home. Mobile ordering snacks and meals is super easy. Check ride times, use the map to get around, and reserve lightening lane passes through Genie+.
2. Get acquainted with the park map.
If you notice that a ride's line time is short and it is in a land that is close to where you are, you should head there.
3. Use the lockers
Take advantage of the lockers that are in the park. There is one set in the cul-de-sac between Market House and Disney Clothiers and another to the left of the ticket turnstiles before you enter the park.
4. Go on the popular rides first
The first 2-3 hours the park is open are the golden hours when the lines will be the shortest. Go on the most popular rides early to avoid long lines later.
» Looking for more inspiration along the route? Check out all our guides to San Francisco, Los Angeles, Santa Barbara and San Diego. Find the best beaches in Monterey, waterfalls in Southern California, and national parks.
Like this article? Save it on Pinterest so you can find it again.
FOLLOW US on Pinterest and Facebook for more California travel inspiration and tips!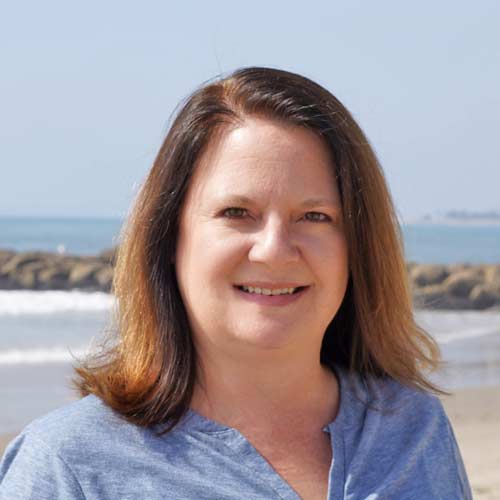 Laura is a travel fanatic who loves seeing and doing new things. She lives in Ventura, CA, and spends a lot of time exploring California's cities, beaches, and national parks.