A road trip from Los Angeles to San Francisco is an adventure that offers some of the most breathtaking views of the Pacific coastline. The route is approximately 400 miles long and can take anywhere from 8 to 12 hours, depending on how many stops you make along the way.
In this article, we will guide you through the best stops to make on your Los Angeles to San Francisco road trip. From the iconic Santa Monica Pier to the stunning Big Sur coastline, we will provide you with a comprehensive itinerary that covers all the must-see spots.
Need a little more planning advice? Start with our 2-day San Francisco itinerary, then be sure to check out San Francisco's best bakeries, and when you're done exploring inside the city, here are some weekend getaway ideas.
Whether you're a first-time visitor or a seasoned traveller, this guide will help you plan an unforgettable road trip that showcases the best of California's coastline.
Getting from LA to San Francisco
What is the Distance?
The distance between Los Angeles and San Francisco is approximately 383 miles (616 kilometers) if you take the I-5 N route, or 420 miles (669 kilometers) if you take the more scenic route on the US-101 N.
Around San Luis Obispo you will have the option of branching off the 101 onto Highway 1, which goes along the even more scenic coastal route, passing Morro Bay, Cambria, San Simeon, and driving straight through Big Sur. Before you take the route, you will need to check the status of Highway 1 to make sure it's fully open. It's often closed through part of Big Sur due to landslides and the such.
How Long Does it Take?
The time it takes to travel from LA to San Francisco can vary depending on the mode of transportation and the route taken. If you're driving, it can take anywhere from 6-8 hours, depending on traffic and the route you choose. If you're taking a flight, it will take around 1 hour and 20 minutes. However, what would be the use of this information if you're flying there?
Where Should You Rent a Car?
If you're planning to rent a car, there are several options available in both Los Angeles and San Francisco. Some popular car rental companies include Hertz, Enterprise, Avis, and Budget. It's recommended to compare prices and availability across multiple rental companies to find the best deal for your needs. For this we always use Discover Cars. They help you find the best deal.
What is the Best Route From LA to San Francisco?
Both Highway 101 and I-5 are popular routes to travel from Los Angeles to San Francisco, but the best route for you depends on your priorities and preferences. Obviously if you're looking for a road trip with fun stops, then 101 and Highway 1 are the better choices.
Here are some factors to consider:
Scenic views: If you're looking for a scenic drive, Highway 101 is the better choice. This route takes you along the California coastline, with breathtaking ocean views and charming coastal towns along the way. However, keep in mind that this route can be slower and more winding than I-5.
Time and speed: If you're looking for the fastest route, I-5 is the better choice. This route is more direct and has higher speed limits, which can save you time if you're in a hurry. But you won't be able to stop at any of the top places on this list.
Traffic: Both routes can have heavy traffic, especially during peak travel times. However, I-5 is generally considered to have more consistent traffic flow than Highway 101.
Stops and attractions: Depending on your interests, you may prefer one route over the other for the stops and attractions along the way. Highway 101 passes through several popular tourist destinations, such as Santa Barbara, San Luis Obispo, and Paso Robles. I-5, on the other hand, passes through more rural areas and fewer major cities.
Overall, there is not one "best" route for everyone. Consider your priorities and preferences, and choose the route that works best for your needs.
Best Stops on a Los Angeles to San Francisco Road Trip
When planning a road trip from Los Angeles to San Francisco, there are plenty of amazing stops to make along the way. From stunning beaches to charming towns and landmarks, the Pacific Coast Highway has it all. Here are some of the best stops to make on your LA to San Francisco road trip.
Ventura
Perhaps not a lot of people have heard much about Ventura and it's typically considered just a place that you blow past on the 101 headed north, but I would implore you to stop in this charming town and see what it has to offer (spoiler alert: it's a LOT).
I'm not being biased because I live in Ventura, either. It's really a cute place, with lots of things to do like walk by the pier (it's one of the longest in California), visit a few of the 13 breweries in town, eat some great seafood with a view, hang out on one of the most low-key beaches in Southern California, and visit the Ventura Harbor (you can go out on a paddle board, kayak, or pedal boat!).
Santa Barbara
Located just a few hours north of LA, Santa Barbara is a must-see destination on your road trip. This beautiful coastal town offers a variety of activities, including wine tasting, hikes, and beach time. Before you go, be sure to read our full guide on the things to do in Santa Barbara.
Explore the Santa Barbara County Courthouse: Known for its stunning Spanish-Moorish architecture, this historic building offers sweeping views of the city from the bell tower. The courthouse is also home to beautiful gardens and lawns.
Visit the Old Mission Santa Barbara: Dubbed the "Queen of the Missions", this historic landmark is over 200 years old. It offers a glimpse into California's early colonial history, with its museum, cemetery, and beautiful gardens.
Stroll Along State Street: This is the main downtown area of Santa Barbara, filled with shops, restaurants, and galleries. It leads straight to the beach, and is a great place for people-watching, shopping, and enjoying local cuisine.
Go Wine Tasting in the Funk Zone: This fun part of downtown has lots of great wine tasting rooms like Riverbench, Fess Parker, and the Valley Project. We also like to drink beer at Brass Bear Brewing (they also have the BEST tri tip skewers.)
Relax at East Beach: This is one of Santa Barbara's most popular beaches, known for its pristine sands and gentle waves. It's an ideal spot for sunbathing, swimming, beach volleyball, or just enjoying the ocean views.
Tour the Santa Barbara Museum of Art: This museum boasts an impressive collection of ancient through contemporary art, with works from Asia, Europe, and America. It frequently hosts special exhibitions, lectures, and educational programs.
Solvang
Just inland, you'll find the charming town of Solvang, nestled in the heart of California's Santa Ynez Valley, which is a picturesque Danish village with its traditional architecture, windmills, and cobblestone streets. Stroll through the town's streets lined with half-timbered buildings, boutique shops, and art galleries, where you can discover Danish handicrafts, antiques, and locally made treasures.
Indulge your taste buds with delicious pastries, Danish treats, and international cuisine at the numerous bakeries and restaurants scattered throughout the town. If you're a wine lover, there are at least a dozen tasting rooms you can stop at for a sip of Chardonnay and Pinot Noir, the specialties of the Santa Barbara wine region.
Pismo Beach
Known for its laid-back atmosphere and breathtaking views, Pismo Beach offers a blend of relaxation and excitement. As you drive into town, you'll be greeted by miles of pristine beaches with soft golden sands, where you can soak up the sun, build sandcastles, or take leisurely strolls along the shoreline. For the more adventurous, Pismo Beach is famous for its dunes – massive hills of shifting sand that create an otherworldly landscape. Try your hand at dune buggying or sandboarding for an adrenaline rush like no other.
The Pismo Pier is a centerpiece of the town, extending out into the Pacific Ocean and providing a fantastic vantage point for watching sunsets that paint the sky in vibrant hues. Don't miss the chance to indulge in the renowned clam chowder from Splash Cafe for a true taste of coastal cuisine.
San Luis Obispo
If you're thinking of traveling and you're looking for a destination with warm weather and tons of exciting things to do, then San Luis Obispo is the right place for you.
Apart from restaurants and beaches, SLO has some interesting history and plenty of nearby vineyards to explore. Because it's home to Cal Poly State University, the youthfulness of the town is reflected in many of the fun activities and bars in the downtown area.
One thing we never miss doing when we're there is Firestone Grill, located right downtown. They have the BEST tri tip sandwiches you'll ever eat.
Hearst Castle and San Simeon
This charming coastal town is located just off of Highway 1 and it's so small, you might miss it if you blink, but there are actually a lot of fun things to do in San Simeon.
You'll find Hearst Castle here. This historic landmark was built by newspaper magnate William Randolph Hearst and is a must-see for architecture and history buffs, with its opulent rooms and stunning gardens. Be sure to get tickets well in advance, as it's a very popular tourist attraction.
San Simeon is home to a large colony of elephant seals, which are fascinating to watch. There's also Hearst Ranch Winery with an amazing view and a food truck.
Another notable feature in town is the San Simeon pier, built in the 1870s, and one of the oldest structures in San Simeon. It's a great place to go fishing or take a leisurely stroll and enjoy the ocean views.
Big Sur
One of the most scenic stretches of the Pacific Coast Highway is Big Sur. This rugged coastline boasts breathtaking views of the ocean, as well as landmarks like the Bixby Creek Bridge and McWay Falls. Take your time driving through this area and make sure to stop at some of the many lookout points along the way.
Keep in mind that the road is sometimes closed due to landslides and other natural issues, so be sure to check before you head out. If you can't go through Big Sur on Highway 1, you'll have to go around on Route 101, which isn't nearly as picturesque.
Monterey and Carmel
Monterey and Carmel are two charming coastal towns that are worth a visit. Monterey offers attractions like the Monterey Bay Aquarium, Cannery Row, and the 17-Mile Drive, while Carmel-by-the-Sea is known for its quaint shops and galleries, many wine tasting rooms, and lots of fun things to do. Monterey County also has some really incredible beaches to visit.
Just outside of Carmel is the fantastic Carmel Valley which is home to a dozen or more great wineries. It's a day trip all on its own. You could spend hours out there wine tasting.
Santa Cruz
Santa Cruz is where sun-soaked beaches meet laid-back vibes of a classic California coastal town. Nestled between the majestic redwood forests and the sparkling Pacific Ocean, Santa Cruz offers a perfect blend of outdoor adventure, surf culture, and eclectic charm.
From riding the iconic wooden roller coaster on the Santa Cruz Beach Boardwalk to exploring the towering trees of Henry Cowell Redwoods State Park, every corner of Santa Cruz gives a different experience. See our full guide on the things to do in Santa Cruz.
Enjoy the vibrant arts scene, get in some wine tasting at the many Santa Cruz wineries, savor fresh seafood by the waterfront, grab a beer at one of the many breweries, or even take some surfing lessons.
Half Moon Bay
Half Moon Bay, just a bit further north, is your typical beach town. With its rugged cliffs, pristine beaches, and sweeping ocean views, Half Moon Bay is a paradise for outdoor enthusiasts and beach lovers. It's also a great place for families because of the more leisurely pace, the abundant tide pools, and the miles of beach – there's no crowding here!
If you're looking for some libations, you can visit Half Moon Bay Distillery or Half Moon Bay Brewing Company. They are both located right on the water with great views.
San Francisco
No road trip from LA to San Francisco would be complete without a stop in the City by the Bay. From the Golden Gate Bridge to Alcatraz Island, there are plenty of landmarks to explore. Don't miss Union Square, Golden Gate Park, and the historic cable cars. If you have time, drive up to Lombard Street for a view of the very unique windy road.
While San Francisco has lost some of its charm in the past few years, we still think it's worth a visit, if you stick to the main attractions. Fisherman's Wharf and Ghiarardelli Square, the Ferry Building, and the many world-class restaurants are all still great things to do.
Top Tips For the Best Trip
There are so many stops along the route on this road trip, so you really need to be judicious about the things you're interested in, so you can choose what to include in your itinerary and what to leave out. You can't possibly stop everywhere!
So here are my top tips for planning the best trip:
Be judicious about your stop. Choose what you think you'll be the most interested in and spend more time there, rather than try to do too much, spending less time at each.
Rent a smaller car that will make it easier to find parking and get around. There's really no need for an SUV or larger car, and you'll just end up spending more in gas. Gas is very expensive in California.
Always check the route before you start out. There are frequent issues along Highway 101, especially around Big Sur. If the route is shut off, you won't be able to get through and it can ruin your itinerary for the day.
Always build in more time for traffic. This is California, where traffic is a given. Around the cities, you'll need to give yourself at least an hour extra than Google Maps tells you it will take.
Travel Planning Guide
🚙💨 Where should I book my rental car?
Renting a car is one of the best ways to get around in California, no matter where you're visiting. Public transportation can only get your so far, even in big cities. I always rent with Discover Cars, which checks the prices of all major rental car companies, so you get the best rates.
🛌 What's the best way to book my accommodations?
For hotels and vacation rentals, Booking.com or Expedia.com are the best sites, but you can also book through TripAdvisor. If you're considering renting a house instead, don't forget to also check VRBO, which is often cheaper than Airbnb.
🧳 What do I pack for California?
Head to the our California Packing List or Disneyland Packing List to get all the info on packing.
✈️ What's the best site to buy flights to California?
For finding cheap California flights from around the world, I recommend Skyscanner. I've also had pretty good luck with Kayak.com.
Like this article? Save it on Pinterest so you can find it again.
FOLLOW US on Pinterest and Facebook for more California travel inspiration and tips!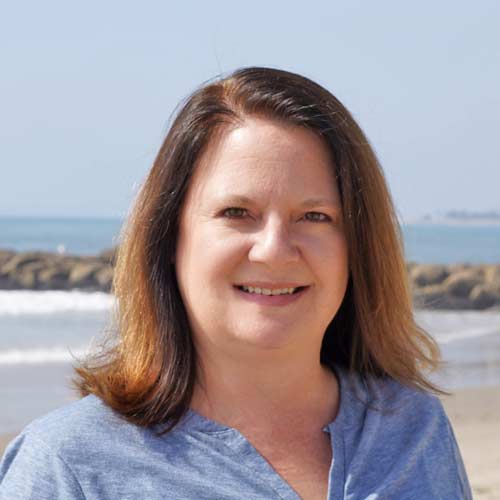 Laura is a travel fanatic who loves seeing and doing new things. She lives in Ventura, CA, and spends a lot of time exploring California's cities, beaches, and national parks.