While there are endless things to do in Santa Barbara while you're visiting, you might find the urge to explore a little bit outside of the city to see what's nearby. And you wouldn't be remiss in doing so. I'm convinced this is one of the best sections of the California coast, and it's rife with things to do.
There are multiple day trip options within a few hours of Santa Barbara. If you're really into hiking and nature, you could visit the Los Padres National Forest, if you're looking to explore a different beach, head down to Ventura, or if you want to do a day of wine tasting Solvang or Los Olivos are just 30 minutes away.
I don't want to give away all the best day trips in the first two paragraphs! Stick around to learn more about the 15 best day trips you can take from Santa Barbara. We'll start with the easy ones first, then give you the longer distance options last.
Not sure when to visit? Check out our guide to the best times to visit Santa Barbara. It's gorgeous here year round, so no matter when you choose, it'll surely be amazing.
» Looking for more info to build your Santa Barbara itinerary? Check out our full Santa Barbara travel guide, the best times to visit, and see the top 25 Things to Do in Santa Barbara. Get active with these SB hikes.
Our Recommended Santa Barbara Hotel
Santa Barbara Day Trips to Take
1. Channel Islands National Park
Channel Islands National Park is one of the most idyllic outdoor experiences you can have in the area. The place is so serene and quiet, with views from the cliffs that you would not expect to see, even for California.
The Channel Islands consist of five islands: Anacapa, Santa Cruz, Santa Barbara, San Miguel, and Santa Rosa. You can get to most of them by ferry from Ventura Harbor. The ferry runs year round on a variable schedule, 5-7 days per week and it takes about 1 hour to get to the nearest islands, Anacapa and Santa Cruz.
The best way to tackle a day trip would be to get to Ventura for the early sailing, spend 4-5 hours on the island and return the same day. There is no transportation on the islands, nor are there any services, so you need to go prepared with any food or items you need.
There are various activities available on the islands, like bird watching, photography, kayaking and other water sports, and of course hiking. You can also stay overnight at one of the campgrounds, but again – come prepared with everything you need.
2. Carpenteria
The closest day trip to Santa Barbara is the small town of Carpenteria just 15 minutes to the south. You might not consider this cute town as a day trip, and it's not typically found on these lists, but there's actually quite a bit to do there.
If you're into beer and wine, there's a section of town on Carpenteria Avenue where you'll find a brewery, a winery, a cidery/meadery/kombucha, and (on the weekends) a little empanada stand.
So the day goes like this – start out by walking around the main part of town on Linden Ave. Grab a fantastic sandwich at Carp Kitchen, then go on a little drinks crawl at Apiary Beverage Co, BrewLab, and Rincon Mountain Winery tasting room. If you're a little peckish, stop by Che Empanadas and take them to Rincon with you.
3. Ventura
Only a 30-min drive from Santa Barbara is the laid-back beach town of Ventura, which makes an ideal day trip if you want to discover somewhere new.
Ventura is an unexpected gem, with its stunning uncrowded beach, charming Main Street, and craft breweries.
Spend some time on the beach near the oldest pier in California. Grab a beer from MadeWest, some tacos from Beach House Tacos, then walk to the pedestrian only Main Street where you'll find dozens of boutique shops, thrift stores, antiques, great restaurants, breweries, cocktail spots, and coffee shops.
San Buenaventura Mission is a must-see spot, as are the more than 11 craft breweries that you can visit, such as Topa Topa Brewing Company, Seaward Brewing, and Rincon Brewing. You might also want to visit Channel Islands Harbor where you can rent a pontoon boat and float around the harbor.
The Ventura Harbor is where the Island Packers ferries operate from that can take you out to the Channel Islands for the day.
4. Cachuma Lake Recreation Area
For a day away from the city, head up to Cachuma Lake Recreation Area, 30 minutes from Santa Barbara, where you can go boating, fishing, hiking, and camping. While the lake is a water supply, so you can't swim in it, you can enjoy the scenery around it.
There are 6 trails around the lake including the 1/4-mile Mohawk Loop and a 12-mile Live Oaks Trail. All of the trails are shared use, so you can go hiking, biking, and horseback riding on them.
Cachuma Lake is also great for fishing with habitats for different kinds of fish, like trout, bass, catfish, and steelhead.
You can also go on a 1.5-hour guided lake cruise on a pontoon boat and they are given Friday to Sunday in the morning and afternoon.
If you're going to be up in the Cachuma Lake area, you must stop by Cold Spring Tavern on your way to or fro. It's an old Western saloon dating back to 1868 when it was a stage coach stop on the San Marcos Pass. They have indoor and outdoor seating, and one of the best tri tip sandwiches I've had.
5. Los Olivos
The perfect day trip away from Santa Barbara in my opinion is Los Olivos. This is the cutest town and it's only about 35 minutes away. If you're into wine tasting then you're in for a big treat. The basically one-road town is chock full of winery tasting rooms.
My best recommendations for wineries are E11even Wines by Andrew Murray. It's a small tasting room but you'll be treated to some of the best wines in town. We also like SamSara, Bien Nacito and Four Brothers.
If you're staying overnight, you'll want to stay at Fess Parker Inn and go to Nella Kitchen for dinner. The sausage and potato pinsa (their version of a flatbread pizza) and the burrata starter are perfect!
If you like to gamble you can stop by the Chumash Casino Resort in Santa Ynez just 5 minutes down the road.
6. Ojai Valley
Ojai Valley, pronounced oh-hi, is one of the best day trips from Santa Barbara because of its intense natural beauty and array of activities.
Ojai itself is a charming city nestled in the foothills of the Topatopa Mountains. It's just a 45-minute drive from Santa Barbara and offers visitors a wealth of experiences, from numerous hiking opportunities, to fantastic wine tasting.
The town has a Mediterranean-style climate and architecture, stunning scenery surrounding the city, and an array of outdoor activities.
The Los Padres National Forest has many trails to explore. But if you're not a particularly active person, you can opt for a day spa visit at the Ojai Valley Inn instead. We go to Ojai often to visit the wine tasting rooms.
7. Solvang
Solvang is one of the quirkiest towns on the West Coast. Located just 40 minutes away in Santa Barbara County, this town is known as the "Danish capital of America." It is entirely Danish-themed, from its architecture to its food to the year-round activities that it hosts.
While it may be small, with a population of only about 6000, it draws in thousands of tourists each year, as there are no shortage of places to eat, great activities, and fun things to do in Solvang.
The small town is full of old-world architecturally designed buildings, Dutch windmills, and the iconic giant red clog that makes for an adorable picture.
Food-wise, you can't go wrong with the bakeries lining the streets. You'll want to get a taste of the scrumptious Danish pastries and æbleskiver, which are almost like pancake balls.
We always have dinner at Mad & Vin while we're there and stop at a few of the wineries, like Alma Rosa Winery and Sanger Wines.
8. Pismo Beach
I absolutely love Pismo Beach, an hour and 20 minutes from Santa Barbara, even though it's pretty small as beach towns go and it can get quite touristy in the summer. There's a great pier, lots of seafood restaurants, and a few fun things to do in the surrounding area.
One of my favorite things to do in Pismo Beach is grab a to-go clam chowder from Splash Cafe (it's the best in town, believe me I've tried them all), and take it to the pier where you can stay for hours watching the surfers.
There's not a lot to see in town, but it's worth having a walk around. If you like seafood, be sure to eat at the Crab Shack for the crab boil and get your hands messy digging in.
The dunes are another spot you have to check out in Pismo Beach. Oceano Dunes, as it's called, is one of the most extensive coastal sand dunes in California and one of the only places you can drive your car right out onto the beach – though I don't recommend it unless you have a 4×4. I've seen cars get stuck out there!
9. San Luis Obispo
San Luis Obispo, an hour and a half from Santa Barbara, is a small city, but it has a ton of great places to eat. One of the favorites in town is Firestone Grill. There's almost always a line out the door for their delicious tri tip sandwich, that is piled high with some of the most tender tri tip you'll ever eat.
Apart from restaurants, SLO has some interesting history and plenty of nearby vineyards to explore. Because it's home to Cal Poly State University, the youthfulness of the town is reflected in many of the fun activities and bars in the downtown area.
Our list of 13 fun things to do in San Luis Obispo should get you off to a good start during your day trip to the area. There's hiking, a few museums, a fun downtown area to stroll, and plenty of restaurants to check out.
San Luis Obispo has more than 250 wineries and about 40 varieties of grapes. The mild weather makes it a haven for vineyards, and the richly-flavored and fully concentrated fruit is ideal for making great wine. Nick and I have been to many of the wineries near San Luis Obispo and we always have fun.
10. Sycamore Mineral Springs
If relaxation is your goal, then you may want to visit Sycamore Mineral Springs Resort in Avila Beach outside San Luis Obispo. It's an alternative to a traditional spa resort experience.
You can choose from a list of calming activities such as yoga, facials, lounging in a hot tub, getting a deep-tissue massage, and more. All of their accommodations include individual hot mineral spring tubs on private balconies or patios.
Apart from that, Sycamore Springs offers breakfast, lunch, and al fresco snacks in the resort's secret garden, plus the Garden's of Avila restaurant. It's a great place to relax and unwind.
11. Venice Beach
South of Santa Barbara, about a 2-hour drive, is Venice Beach. This beach is known for its surfers and bodybuilders. Yes, you read that right. Muscle Beach is an iconic spot in Venice where you'll find the outdoor weightlifting platform created just for bodybuilders to strut their stuff.
Having said that, the neighborhood is mostly famed for its boho aesthetic. Aside from the beach, you can snap a few pictures of the colorful murals lining the street. You might even see some entertaining street performers while you're poking around the trendy shops and cafes.
We suggest checking out the Venice Canals, walking along the Venice Boardwalk all the way from Muscle Beach up to the Santa Monica pier, maybe do some skateboarding by the sea, and visiting the magical Mosaic Tile House.
For a more refined day trip, we suggest taking a walk on Abbot Kinney Boulevard. It's where you'll find the area's trendiest shops and restaurants, like Felix and Gjelina.
12. Malibu
Another can't-miss coastal day trip adventure awaits you in Malibu, just an hour and 20 minutes from Santa Barbara.
One of the top reasons to visit Malibu is to explore its beautiful beaches. With miles of coastline, each beach has its own unique beauty and atmosphere.
Zuma Beach is one of the most popular beaches in Malibu due to it being easily accessible and filled with activities such as surfing, sunbathing, beach volleyball, and picnicking.
Another popular beach is El Matador State Beach which is known for its breathtaking views of the ocean and rugged rock formations that make for excellent sunset-watching spots.
When you're done with the beach, take a stroll through the Getty Villa, packed with Greek and Roman antiquities, and Adamson House, which is sometimes referred to as the Taj Mahal of Tile.
When you get hungry from all the walking, we recommend visiting the Malibu Pier for the Malibu Farm Restaurant, or if you're craving seafood, Neptune's Net.
13. Anaheim
If you're looking to enjoy a long day trip, then we highly recommend taking your family to Anaheim for a fun-filled mini-vacation at the theme parks: Disneyland and California Adventure. If you have just one day to spend at Disneyland, check out this itinerary.
Can't decide which park to go to, see our comparison here.
You may also need to come with an empty stomach so you'll have room to try all the fun Disney foods. We personally can't get enough to the desserts.
It is possible to go to Disneyland from Santa Barbara in a day trip, however if you plan to stay overnight, here are the best nearby hotels.
14. Hollywood
Only about an hour and a half drive away from Santa Barbara, you can visit Tinseltown for a brush with stardom. The Walk of Fame, Warner Brother's Studio Tour, and Dolby Theatre are only some of the places Hollywood has to offer.
We like to hit up some of the easy hikes nearby as well, like the strenuous hike to the Hollywood sign (here are some other moderate to difficult hikes.
With so many things to do in LA, it's probably better to spend 2 days, but you can hit up some of the free museums or find some of the great viewpoints.
15. Bakersfield
Not a fan of the beach? Not a problem. Bakersfield can give you an equally eventful day trip in inland California.
For those fond of museum visits, Bakersfield is home to multiple choices. For instance, there are the Bakersfield Museum of Art, the California Living Museum, and the Buena Vista Museum of Natural History.
Aside from museums, you can also find great outdoor activities in Bakersfield. We particularly like Kern Canyon, a beautiful wilderness area where you can camp, hike, and fish.
FREQUENTLY ASKED QUESTIONS ABOUT SANTA BARBARA
Is parking a problem in Santa Barbara?
Parking isn't terrible in downtown Santa Barbara, except on busy weekends. You can find street parking, if you look for it. There are also a ton of beach parking lots. On the street, you'll pay from to 9am to 6pm every day, but it's free after that.
Some spots are metered with limited time, some are free with limited time during the day. Most hotels will charge anywhere from $25 to $45 a night for parking.
What are some good wineries in Santa Barbara?
There are a ton of great winery tasting rooms in downtown Santa Barbara in the Funk Zone and Paseo Nuevo shopping center. Our favorites are Riverbench and Pali Wine Co in the Funk Zone; Happy Canyon and Jamie Slone in Paseo Nuevo.
Outside of Santa Barbara, we like to visit Solvang, Los Olivos, and the Foxen Canyon Wine trail for wine tasting, especially at E11even, Bien Nacito Winery, and SamSara in Los Olivos, and Zaca Mesa and Riverbench up in Foxen Canyon.
Is Santa Barbara worth the money?
Yes, Santa Barbara is a very expensive city, especially if you want to stay in 4- to 5-star hotels or right on the beach. Whether that expense is worth it to you is very subjective. I feel that Santa Barbara is definitely worth a visit, though you don't necessarily need to stay in the expensive downtown hotels.
The town has a lovely setting along the California Coast with beautiful surrounding mountains. The architecture is California Spanish Revival and there is year-round foliage of natural plants, flowers, and cactus to enjoy. If you like wine tasting, some of the best central coast wineries are located nearby.
Travel Planning Guide
🚙💨 Where should I book my rental car?
Renting a car is one of the best ways to get around in California, no matter where you're visiting. Public transportation can only get your so far, even in big cities. I always rent with Discover Cars, which checks the prices of all major rental car companies, so you get the best rates.
🛌 What's the best way to book my accommodations?
For hotels and vacation rentals, Booking.com or Expedia.com are the best sites, but you can also book through TripAdvisor. If you're considering renting a house instead, don't forget to also check VRBO, which is often cheaper than Airbnb.
🧳 What do I pack for California?
Head to the our California Packing List or Disneyland Packing List to get all the info on packing.
✈️ What's the best site to buy flights to California?
For finding cheap California flights from around the world, I recommend Skyscanner. I've also had pretty good luck with Kayak.com.
Conclusion
Santa Barbara is highly versatile when it comes to planning day trips. The city borders several exceptional regions where you can take your loved ones for a fun weekend-day trip escape.
Whether it's the theme parks in Anaheim or the relaxing hot tubs in Sycamore Springs, you'll be sure to have an exciting or relaxing time.
Like this article? Save it on Pinterest so you can find it again.
FOLLOW US on Pinterest and Facebook for more California travel inspiration and tips!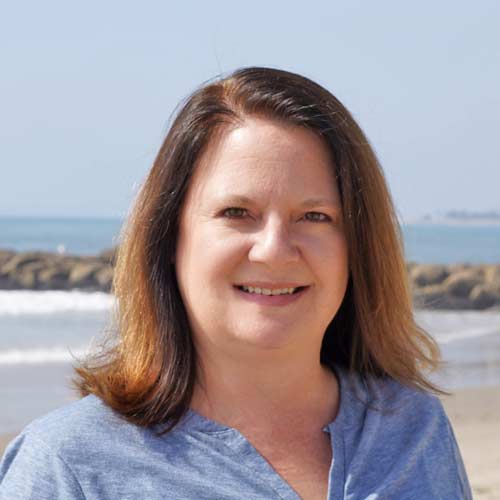 Laura is a travel fanatic who loves seeing and doing new things. She lives in Ventura, CA, and spends a lot of time exploring California's cities, beaches, and national parks.